---
Charlie Alice Raya
photography

---
Paintings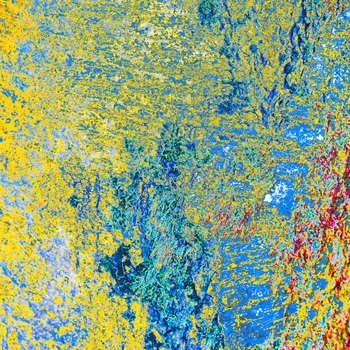 Paintings were ubiquitous in my childhood. I grew up to the smell of turpentine, there were rooms full of canvases, and I gathered an early knowledge of different kinds of papers, colours and brushes, which also included being shouted at if I wasn't careful with the brushes or if I accidentally used a colour too expensive for a child's endeavours.
But there was also a long strip of old wallpaper pinned to the wall where I was free to experiment. And one time, I was told that my dove looked just like Picasso's. That was a great moment for my nine or ten year old self.
Not so great was the morning when I woke up to the rustling sound of paper being pushed into our oven, the fire burning brightly. This was shortly before we were allowed to leave East Berlin (1984) and to move to West Berlin. Picasso or not, my great artistic work was not to come, it was burned.
I guess, it is no surprise that I have a rather ambiguous relationship with the arts and with artists.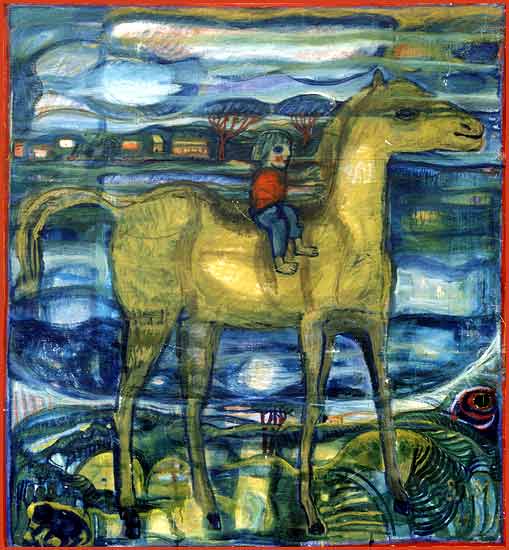 Elli auf dem Pferd
by Annemirl Bauer
oil painting on canvas
190 x 175 cm
1981
städtisches Museum Junge Kunst
Frankfurt (Oder)
Being painted
It might sound like fun, but it wasn't for me.
Imagine you are a small kid on a long walk, and suddenly someone says: 'Oh, stop. Stay like that. Don't move.' And then said person walks ahead to get a good perspective, and eventually starts to sketch, and if you move so much as a muscle, you get a telling.
It wasn't always that bad, but I never liked being painted. Though today I understand that sometimes you suddenly see an image which has to be captured. I just try not to involve children. And these days, I go on my photo tours alone, because I know how frustrating and boring it can be when a painter or a photographer see something and immediately forget everything around them.
But there is one painting, by the artist Annemirl Bauer, which I love: Elli on the horse.
I don't remember ever sitting for Annemirl, but I have a vague memory of being led into the forbidden zone of Annemirl's main painting room. I was maybe five or six years old, and there was this big canvas which showed a little person on a large horse, and I was told that I was that person. I remember feeling kind of puzzled while sensing that it might be something special to be on a painting.
My memory of being very young doesn't match the year stated for the painting, so maybe what I saw then was an early version.
Elli auf dem Pferd (Elli on the horse)
What fascinates me most about Annemirl's painting is that it is still relevant today. No other artist has captured something of who I am.
There is this little person with the boyish face, the indication of some femininity by letting the child sit with both legs to one side. The large curious eyes, the excited red cheeks, the red and blue clothes, again indicating a gender duality. The untroubled and focused expression, no sign of fear, or of discomfort about sitting on a huge horse. The horse itself strong and proud. And in the background worlds, imagined and real worlds, all to be discovered.
I regret that I was too young to ask Annemirl about this painting before she passed. I don't know whether she had anything of what I see in the paining in mind. But Annemirl was the one adult in my childhood I could relate to.
I have an inkling though, how she came to put me on a horse. Whenever I had a chance to go on a bicycle, I would imagine it to be my horse, called Flitzy (Speedy), and we would race along the dusty farm tracks past fields and forests, near Niederwerbig.
My mother and I lived with Annemirl and her daughter in Niederwerbig for a short time, and spent some summers there, before we moved to West Berlin. I have some fond memories of those times.
Frauenort Annemirl Bauer
The track you see in the photo is one of those where I raced along as a kid. In the background you see Niederwerbig (Mühlenfließ) a village in Brandenburg.
Niederwerbig is also a place to discover Annemirl's work today, and in 2014 it was officially named a Frauenort – a place to remember the work of an inspiring and rebellious female artist.
official website: www.annemirlbauer.de
painter for justice, Annemirl Bauer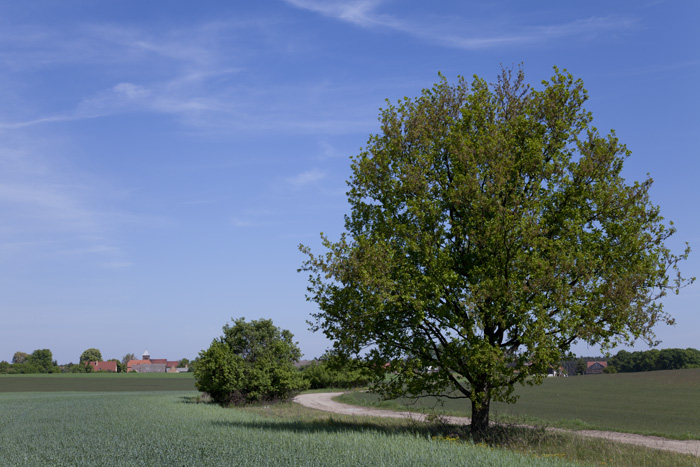 Weekly visits to the museum
As far as I remember, we went to the Museum Island in Berlin nearly every Sunday when I was a child.
I loved the Alte Museum and of course the Pergamon Museum with all its archaeological reconstructions from around the world. No wonder I wanted to become an archaeologist at some point. But even then, I didn't understand what the Ishtar Gate was doing in Berlin of all places.
The visits to the museums taught me to experience art in the sense of learning to see, taking steps back to change the perspective, allowing the paintings to touch and inspire me.
And these visits made me wonder about the past and the present, about the changes humankind and art have undergone over the millennia.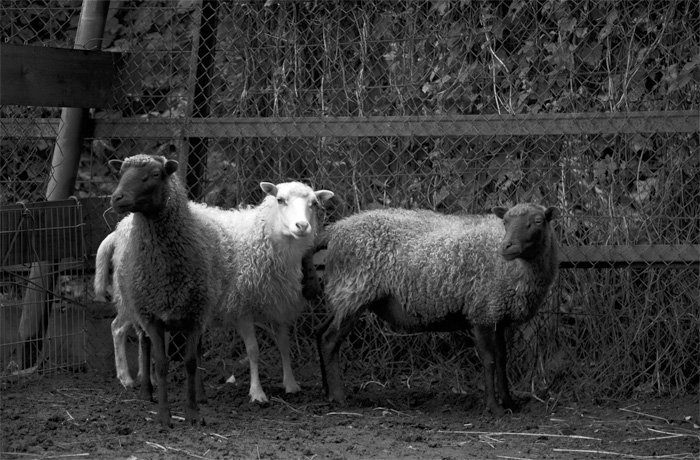 This is one of my photographs, and I always thought it has a touch of the old masters.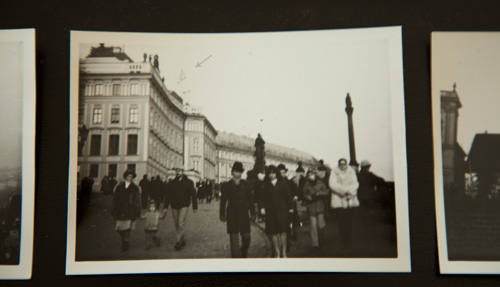 My first camera
My granddad gave me my first camera when I was eight or nine years old, and I remember that I proudly and industriously took it on a holiday to Prague. I still have some of the photographs, and they are astonishingly good for a beginner, and a child at that. I remember that I wanted to catch the Karlsburg in the moment when the wind would fully unfurl the flag. But, as you can see above, I didn't get that picture.
The big gap

Using the camera was always a question of money, and since we had little during my teenage years in the eighties, I rarely took out the camera.
But the few times I did, I realised that the camera is something I can use to experiment with: a blurred or an overexposed image could have a magic of its own.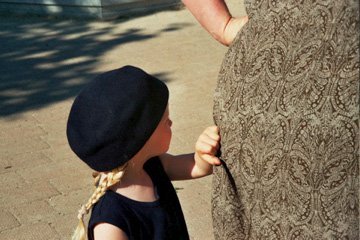 Rediscovering the camera
At the end of the nineties, a friend lent me his reflex camera, and gave me a chance to rediscover the camera and photography. But while I enjoyed my explorations and my exploits, other issues took up the majority of my time.
TV & Film
From 2005 to 2007, I worked on two TV series as a script continuity, did a documentary about a mural in 2006, and in 2007 I also worked on a movie as a second assistant director.
My video camera was probably my first brush with digital photography, and while I focused on documenting the artist's work on the mural, I also started to explore the possibilities of digital photography, and soon bought a small digital camera, perfect for snapping experiments. The first images for the photo series street life were made with the video camera.
In 2008 I decided to take a less crowded road to focus on my own ideas. The fact that a good photograph didn't depend on a big team, that I could be creator, director and editor in one, was one of the major reasons that brought me back to photography. I wanted to work with images, but I also wanted to be my own master. Though, you will find indications in the easy town story and in the story section of the easy town ideas website that making movies is still on my mind. And maybe one day I will return to the set, after all.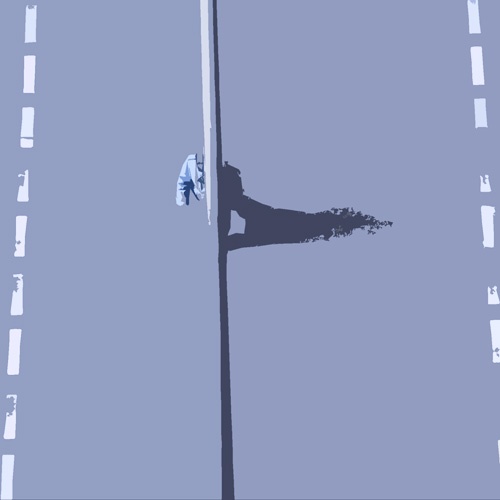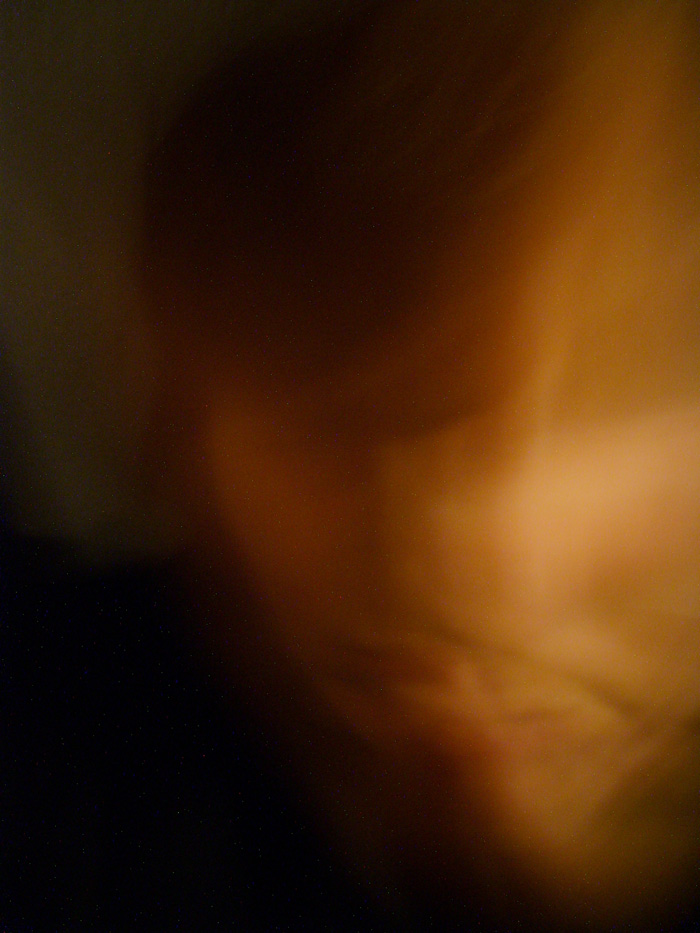 self portraits, 2008
Two of my more serious exploits from that year.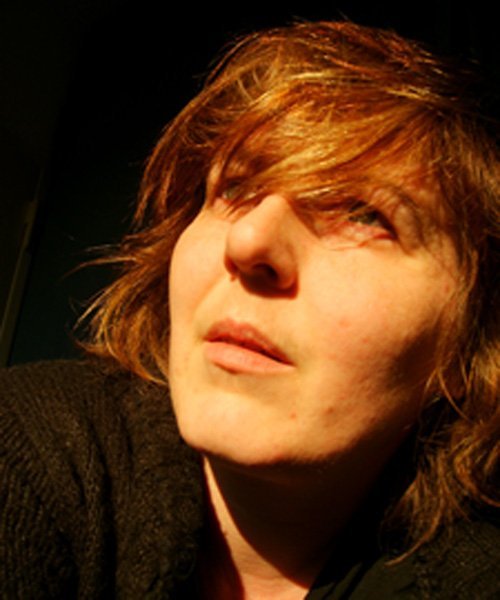 Rediscovering the camera again
I was pretty exhausted from the previous years, so 2008 was in many ways a year where I rested, readjusted and tested myself. I worked on a new story, I went to a drawing course, attended a photo workshop, extended my video editing skills, went to a speech training, and I even remember baking a cake.
I also remember, kind of slowly waking up after years of working for others and often overtime.
A borrowed digital camera played a big part in that waking up process. I would start my day with taking a photo of myself and of the weather. The latter was for the story I was working on. And I would take the camera everywhere.
By taking the time again to see my surroundings and to be on the lookout for an image, I returned to some kind of present, to some kind of being in the moment again, even becoming myself again.
Interestingly, I also discovered that if you take the camera with you, you see more and less at the same time.
More because the camera freezes moments the eye can't see, and also more because the detail of a face or of a tree bark adds something new, gives the image a different weight.
And you see less, because you are so intent on finding an interesting image that you often fail to take a step back and let the whole scene unfold before your eyes. Unless of course, you make it a habit to include moments of just looking.
One of my playful exploits from 2008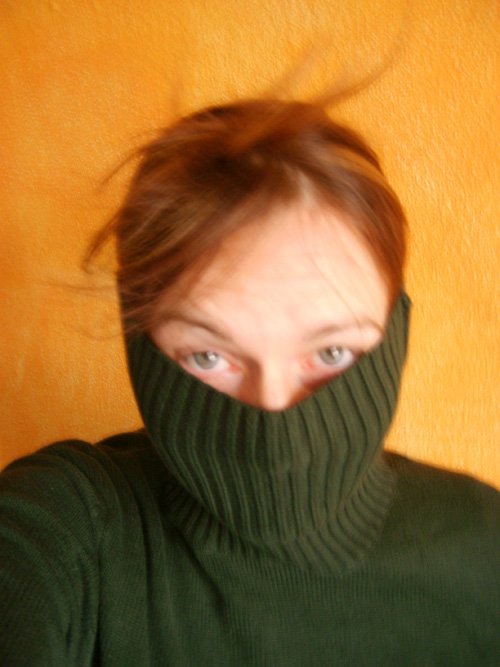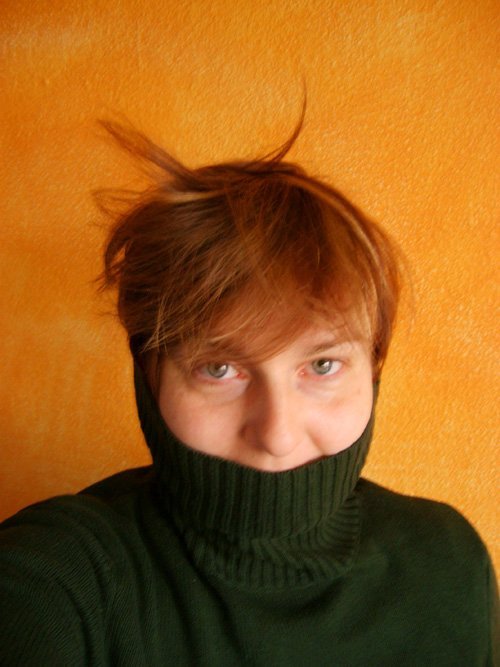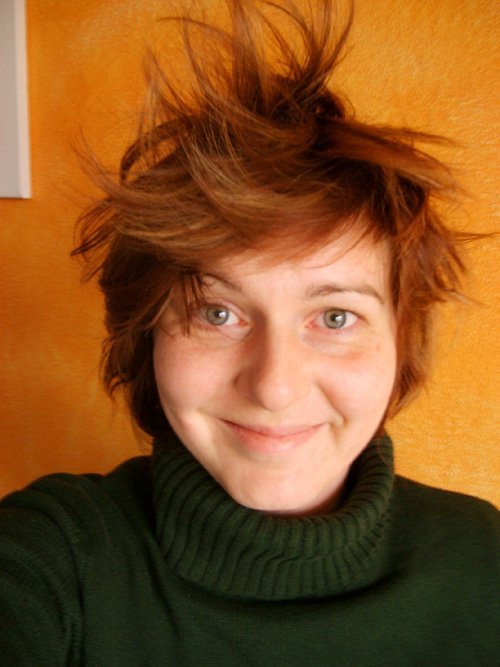 The big camera
In March 2010 came the big camera and with it the possibility of using a whole range of lenses I hadn't even dreamed of.
In the following two years, I shot over 60.000 pictures, many along the coast of the Baltic Sea, as well as in Venice, Barcelona, Berlin and Munich. And I worked on various series.
In 2012 several events turned my life upside down, and I rarely took up the camera.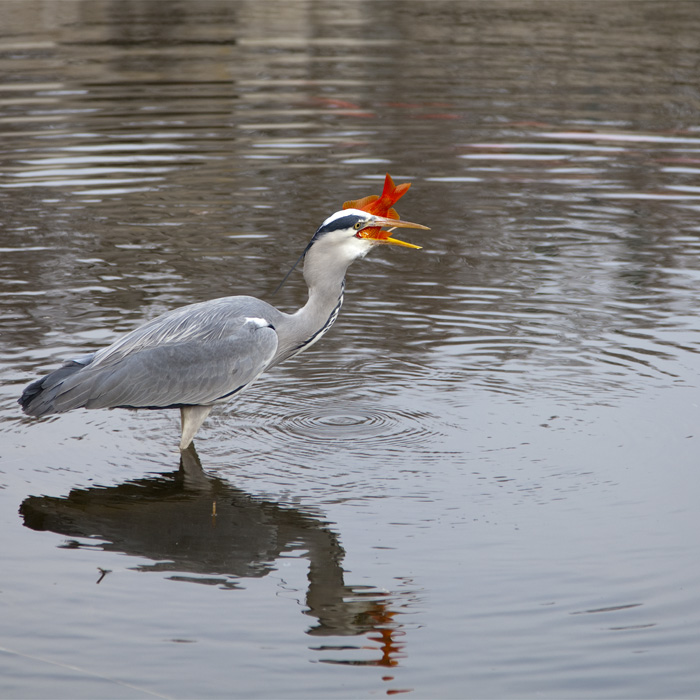 lunch, 2010
On the first day with my new camera, I saw this heron catch a goldfish. I couldn't believe my luck, but I was too excited to make the most of the situation.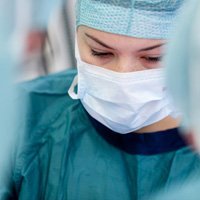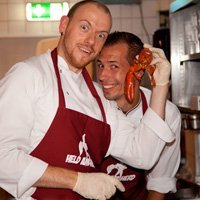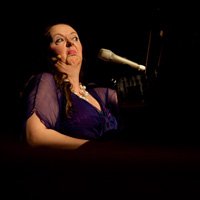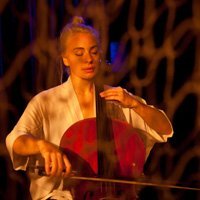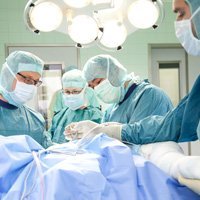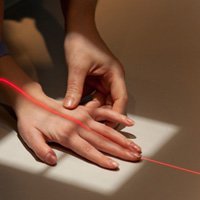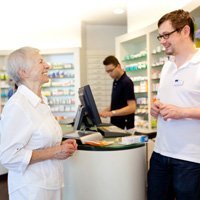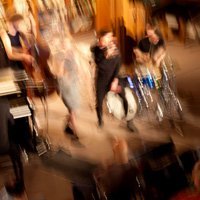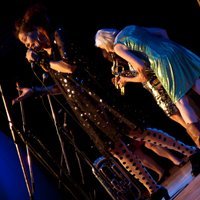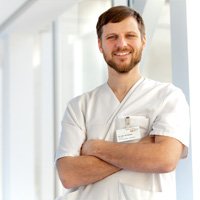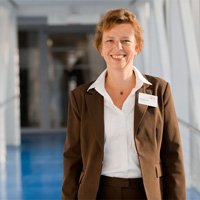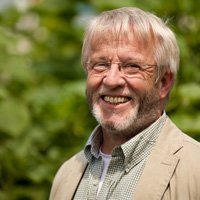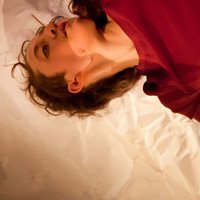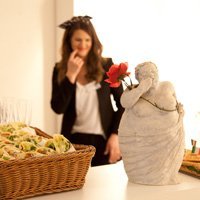 Work as a photographer
The events of 2012 left me shaken, but they also opened some doors, like the idea for Easy Town or the opportunity to gain experience as a commercial photographer.
My first paid photo shoot was for a trader at a big fair. I was so excited, I hardly slept the night before. But it went well, and I was a lot more confident when I did my next shoot. This time the shoot was all about garlic, and I spent days experimenting with light, settings and props. After a short stint in Thailand, I had my first really big contract: photos for a hospital. For days I worked with the staff, set the scenes, attended operations, a church service and classes for future nurses to capture what made this hospital, and the people who work there, special. It was great.
During the editing process, I cursed a lot about all the mistakes I had made. But if I know one thing about mistakes, then it's that I learned more from my mistakes than from any textbook.
I would like to say that everything was plain sailing after that, but it wasn't. Not least, because I was too interested in the Easy Town ideas to focus on photography alone. Also, I started to design websites in 2012, and after my first commercial photo shoots in 2013, I made a point to offer a combination of website plus photo shoots.
My largest projects included designing the websites for two Caritas hospitals as well as doing a number of photo shoots for both hospitals. Another highlight were the shootings for the cultural department in my district: concerts, plays, readings, panels, exhibitions.
I learned a lot from these contracts. But there was one point I only acknowledge to myself today. While my commercial work was good, it was never quite me. No matter what I did, I always searched for the soul of a place or occupation, for the spark in people, for the essence of a task, for the hidden — I was never content with how situations or people were supposed to be portrayed. To ignite my spark, I needed to go beyond that. I needed to be an explorer and even the artist, I didn't really want to be.
The double challenge of working for clients and writing the Easy Town books exhausted me, and so, at the end of 2019, I decided to focus on the book series.
Today
Choosing the images for the photo series, rekindled my love for photography, and in 2021 and 2022 I went on several photo shoots. All strictly me.
And I rediscovered my love for experimenting, both while taking the photos, and during the editing process by changing the exposure, adjusting the tone curves, or any other tweak.
Like with writing, photography always has an element of exploration and discovery for me.
Saying all this, my main focus are the easy town books and the easy town project ideas. And my photos on this website are presented and sold in support of both.